April 2019 – FabMax Chip Packaging Fab in Binh Duong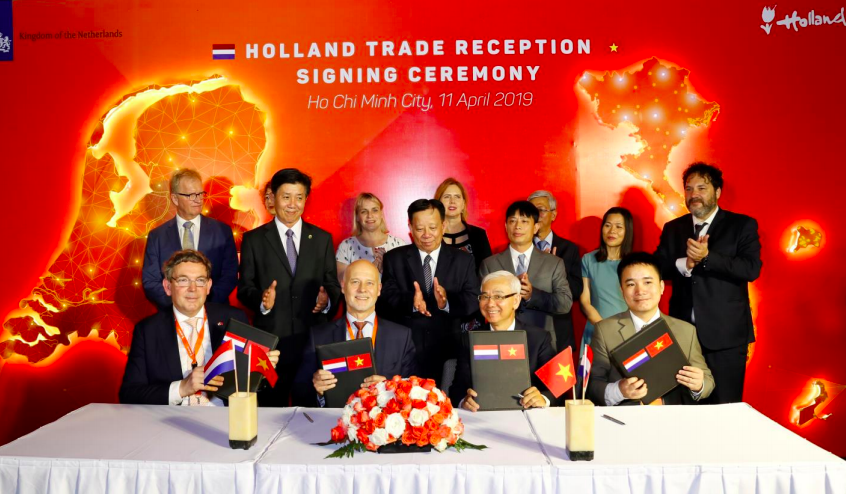 Netherlands Trade Mission to Vietnam
On the occasion of the visit to Vietnam of the Prime Minister of the Kingdom of the Netherlands H.E. Mr. Rutte, the Minister of Infrastructure and Water Management Ms. van Nieuwenhuizen, the Vice-Minister for Finance Mr. Snel, the Vice-Minister of Agriculture Ms. Sonnema and the Dutch trade mission to Vietnam, many important meetings with Vietnamese government, business association and enterprise had been taken place in Hanoi and Hochiminh City. The Minister and the delegation formally ended the visit by witnessing 12 agreements (MOUs) and contracts in various fields signed at Holland Trade Reception held by The Consulate General of the Kingdom of the Netherlands in Ho Chi Minh City on 11 April 2019. The Hochiminh City People's Committee Chief Office Mr. Vo Van Hoan as a very honor guest together with Vietnamese Associations, Enterprises and Media also attended. Speaking at the ceremony, Mr. Hoan said: The Netherlands is not only a leading economic partner of Vietnam in Europe but also one of the major investors  in Vietnam.
FabMax's Cooperation Signing
FabMax has signed Memorandums of Understanding with Becamex IDC, VietSens Group and EIPO for the realization of the first Semiconductor Chip Packaging Fab in Binh Duong New City. "This is an important milestone for us and we expect to start with a pilot line already by the end of this year" according to Dr. Pham Ba Tuan (COO).
Mr. Nguyen Thanh Truc, Director of Planning and Investment Department in Binh Duong, Mr. Nguyen Van Hung, Chairman of the management board of Becamex IDC, and Mr. Dang Hoang Hai, General Director of Vietnam eCommerce and Digital Economy Agency – Ministry of Industry and Trade had been wingmen for these valuable signings of FabMax with Partners in the Semiconductor Manufacturing Facilities Development Project.
FabMax Chip Packaging Fab
This Modern Chip Packaging Fab with advanced packaging/chip integration technologies for RFID-NFC chip solutions for and identification and security of products in a Digital Society, e.g. food, clothing and other valuable products, as well as identity/security sensitive products (bankcards, ID cards) for the Vietnamese markets. We combine low cost with leading and efficient use of technologies.
The Initial investment of US$40 million, expected that the operation needs about 5 years. And with plan to increase investments significantly >$100M after successful start to scale the operation.
In which, FabMax Group leads the development of this project and will manage the factory, as well as selling those smart products to Vietnam.
Becamex IDC is one of the leading investors and developers of industrial, residential, urban and transport infrastructure in Binh Duong and Vietnam. Becamex will facilitate leasing space in Binh Duong for this new project.
Vietsens is cooperating with Vietnam's Ministry of Industry and Trade to introduce RFID tags to protect brands and counterfeiting measures for luxury goods. VietSens will cooperate with FabMax for development, engineering, production and application of equipment, components and subsystems thereof for the semiconductor and alike industries specifically with regard to the RFID Manufacturing in Vietnam.